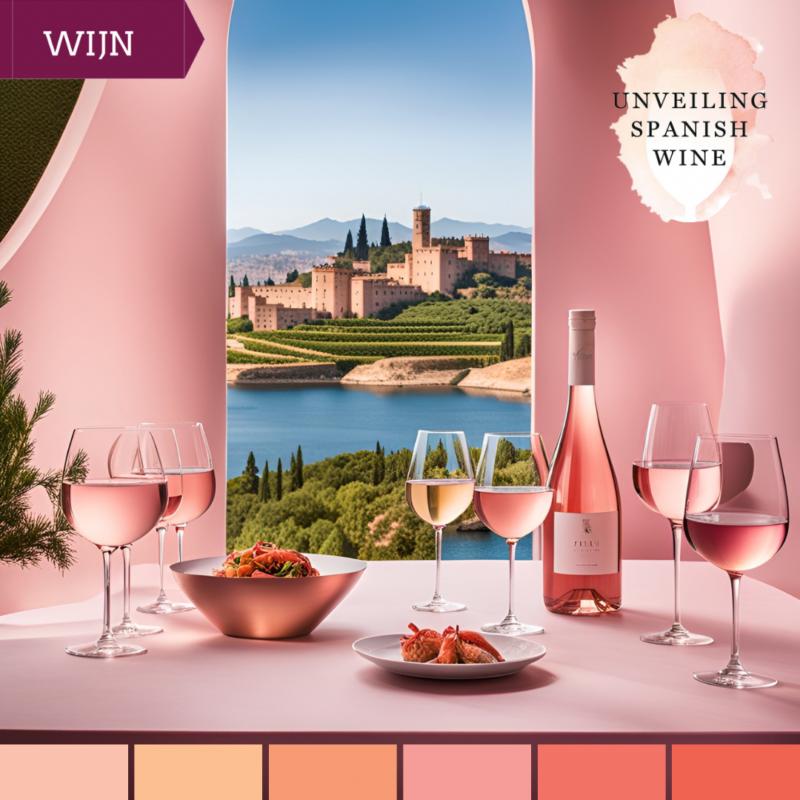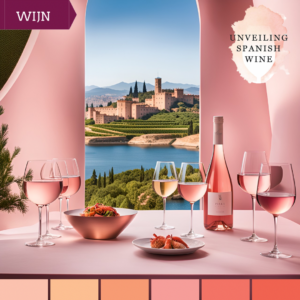 "De opkomst van Spanje's top-rosé's" (The Rise of Spain's Premium Rosados; zie volledige engelstalige tekst hieronder), met die scriptie slaagde ik gisteren voor de opleiding tot Spanish Wine Educator. Die opleiding vond afgelopen juni plaats in Madrid. We kregen eerst les bij The Wine Studio in Madrid over gespecialiseerde onderwerpen als "trends and the future of a sustainable wine industry", "Local varieties and the art of blending in Bodegas La Rioja Alta", een sherry-spijs avond, "Atlantic Wines", "Mediterranean Wines", "Spanish iconic wines", "Continental Spain", en we hadden discussies met wijnspecialisten en tal van toonaangevende en vernieuwende Spaanse wijnmakers. Daarna bezochten we de wijnhuizen Pegaso Viñas Viejas (DOP Cebreros), Bodegas y Viñedos Ossian (regio Rueda maar verkocht als VT Castilla y León), Viñedos Alonso del Yerro (DO Ribera del Duero) en Vino de Pago Abadía Retuerta. We hadden een intensief top-programma en een internationaal gezelschap, met deelnemers uit Canada, de VS, Mexico, Japan, Korea, Engeland, Ierland, Italië en Nederland (moi); een fijn divers groepje van wijndocenten, wijnjournalisten, sommeliers en wijnimporteurs. De opleiding was een vervolg op de online-opleiding die in corona-tijd was ontwikkeld (Spanish Wine Specialist) die ik begin 2021 al volgde. Beide opleidingen zijn ontwikkeld voor ICEX | Foods & Wines from Spain.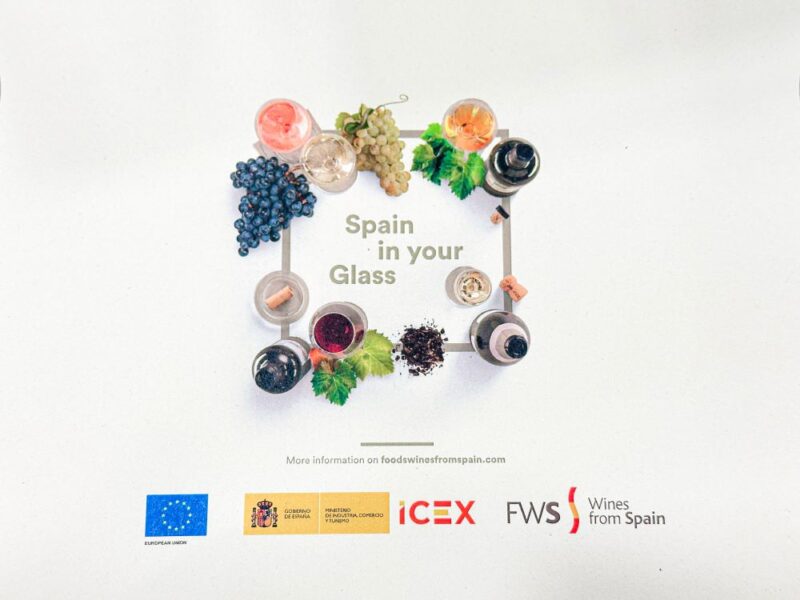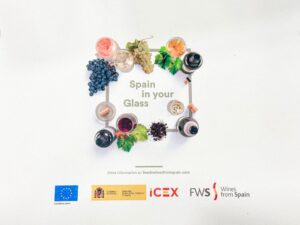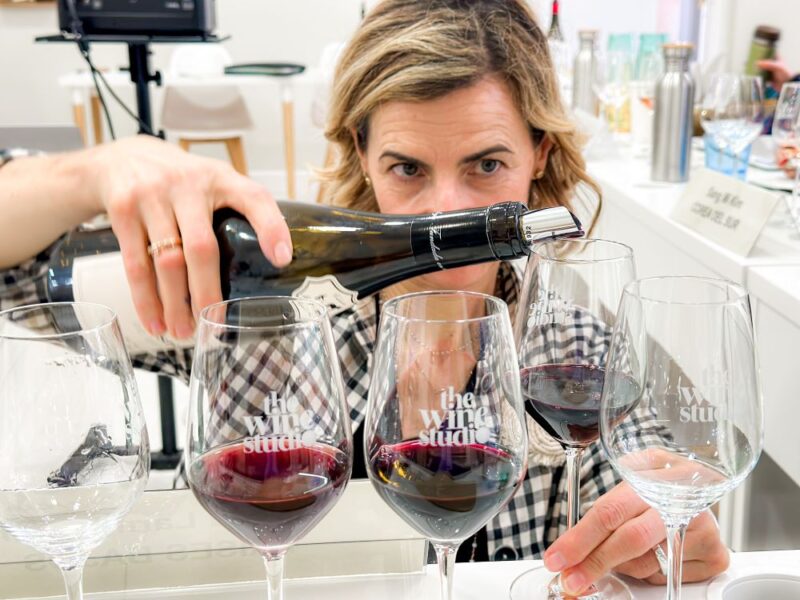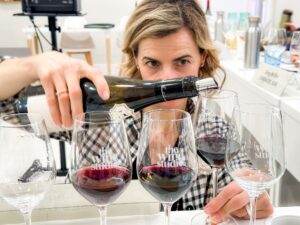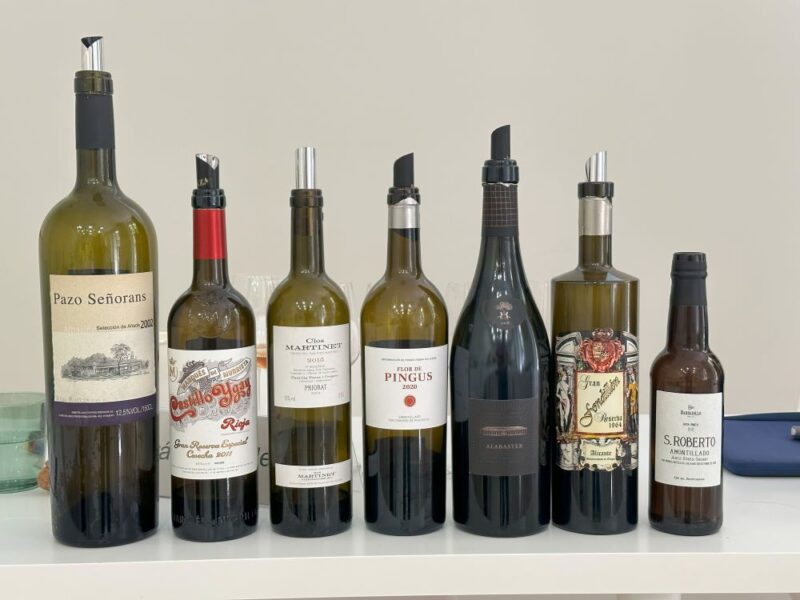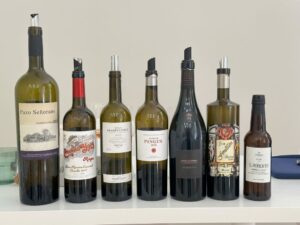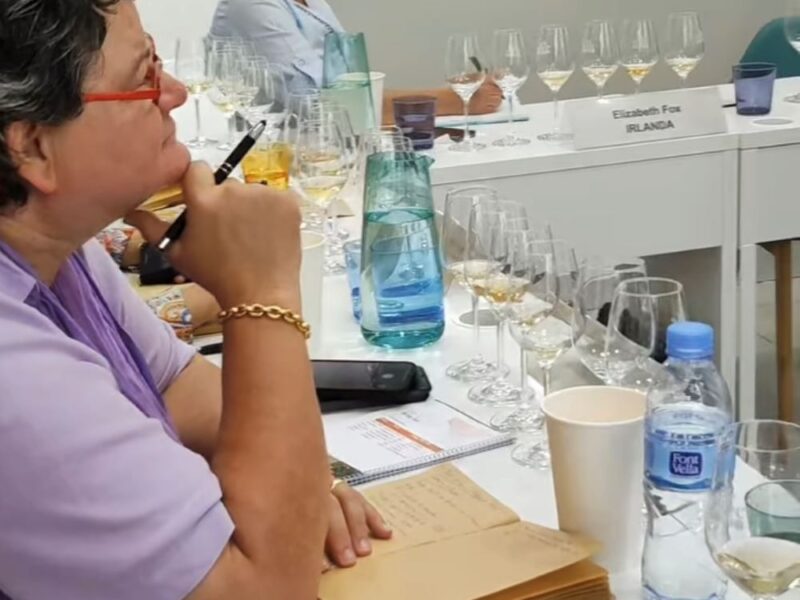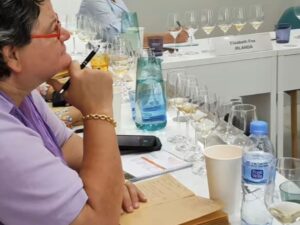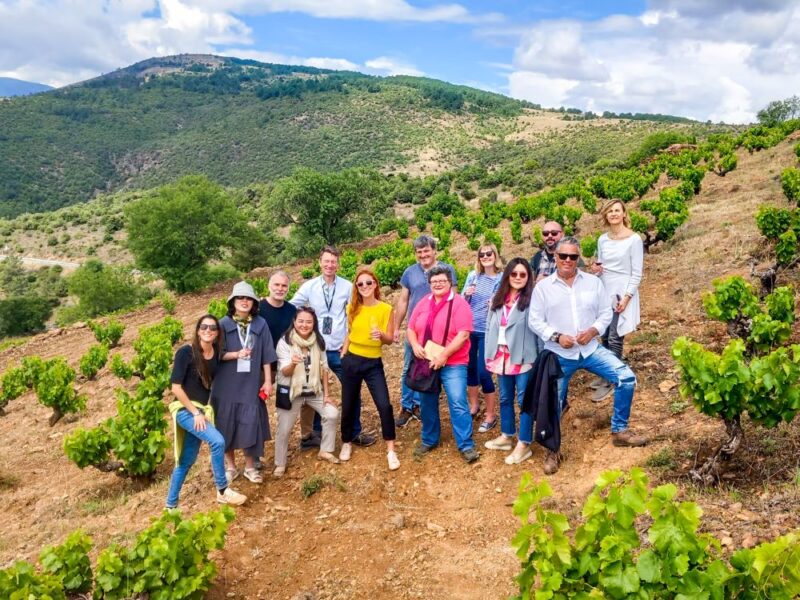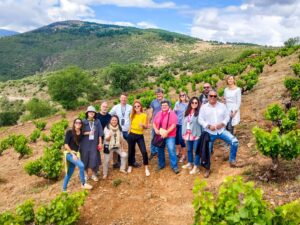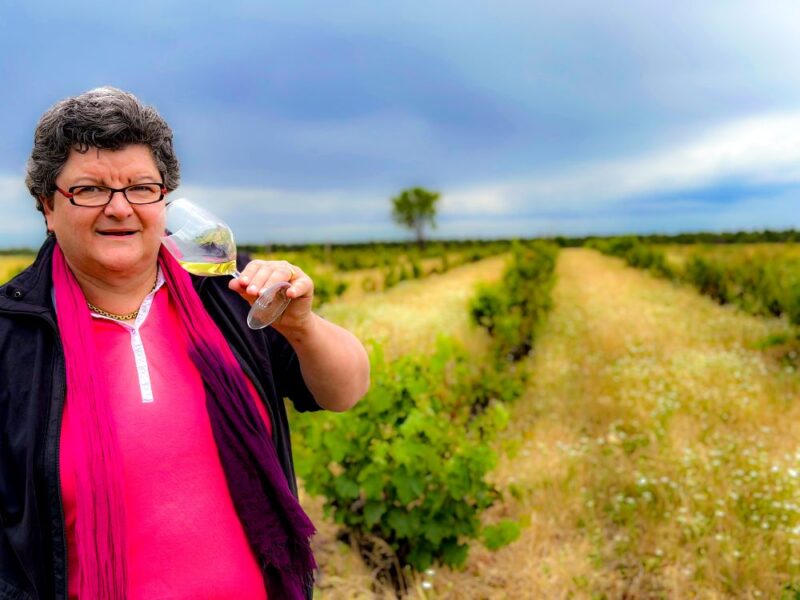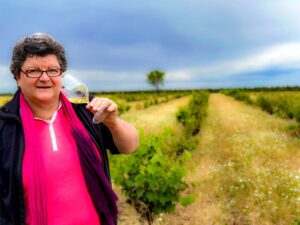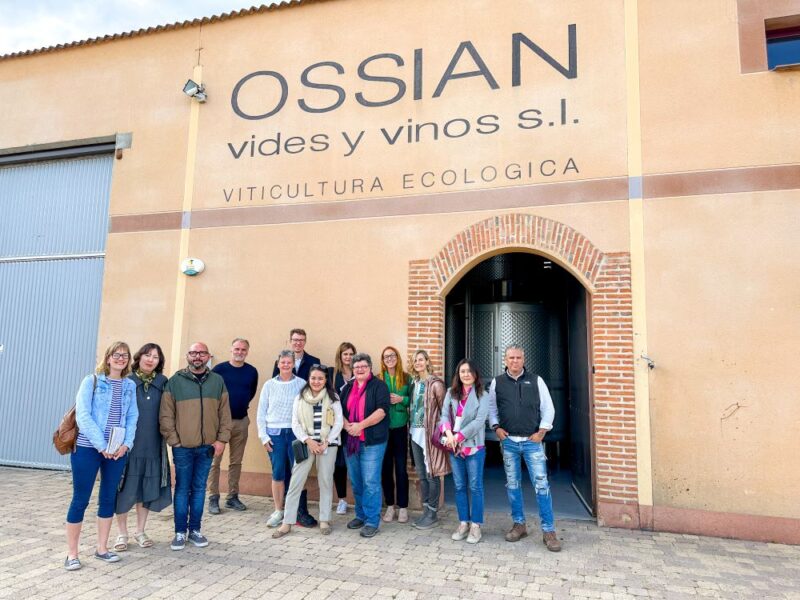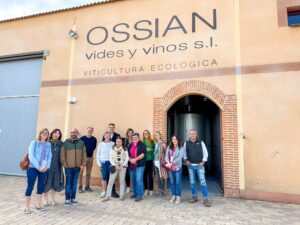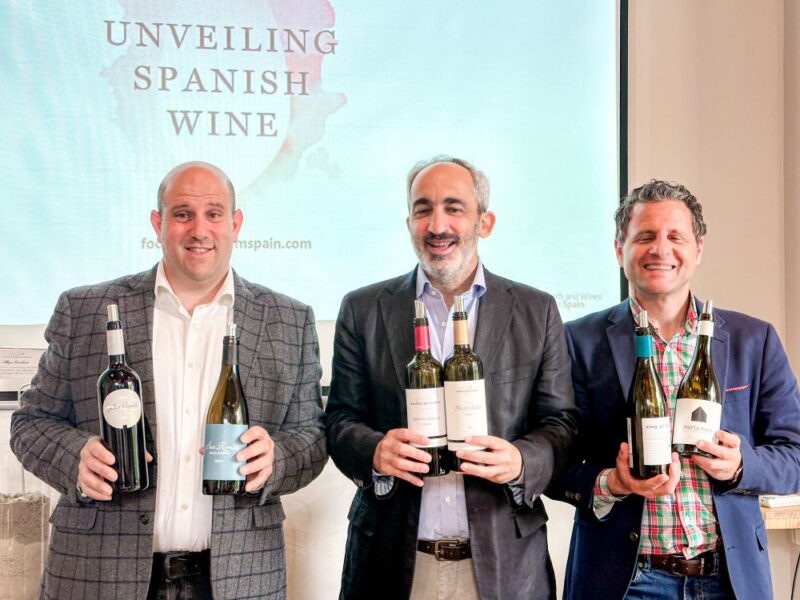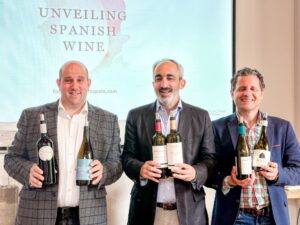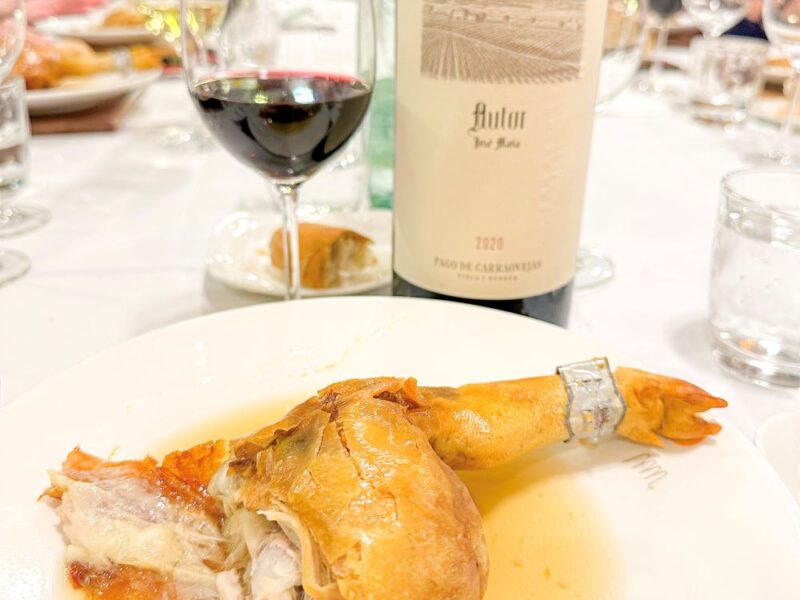 Scriptie "The rise of Spain's premium rosados"
Ter afronding van de opleiding Spanish Wine Educator stond een scriptie op het programma (zie tekst hieronder). Die werd gisteren goedgekeurd. De scriptie mocht over alle onderwerpen gaan. Dat is aan de ene kant fijn, en aan de andere kant zo open dat je even moet bedenken waarover je het wilt gaan hebben. Sherry? Want ik ben ook Certified Sherry Educator en er zijn tal van mooie ontwikkelingen op dat gebied. Cava? Gek op bubbels! Of…? Ik twijfelde lang tussen twee andere voorliefdes: inheemse druivenrassen (want na het Spaanse enthousiasme in de 80-ger jaren van de vorige eeuw voor Franse / internationale rassen, lijkt er nu gelukkig een kentering te komen met nieuw elan en keuze voor inheemse rassen) of Spaanse top-rosé. Ik koos uiteindelijk voor het laatste en mijn scriptie ging over "The rise of Spain's premium rosados" (De opkomst van Spanje's top-rosé's). hieronder een weergave van de inhoud van mijn scriptie, waarin ik achtereenvolgens behandel: Spanje's positie op de wijnmarkt wat rosé betreft, rosé/rosado en lifestyle, de productiemethoden voor rosé / rosado, het kleurenpalet voor rosé (afgeleid van de zes Provence-kleuren), de belangrijkste Spaanse wijnregio's die rosado produceren, de druivenrassen (zowel rood als wit!) die in Spanje voor rosado worden gebruikt en tenslotte inspiratie voor rosé-spijs combinaties. Als voorbeeld in een bijlage heb ik tien premium rosados uitgelicht, met productiemethoden, druivenrassen, vinificatie en hun kleur.
De premium rosados van Spanje zijn een interessante aanvulling op de in Nederland zo populaire Provence-rosé. En ik ontdekte dat naast korte schilweking, direct persen ('pressurage direct', zoals ze in de Provence doen) en de sangrado rosado (saignée-methode of 'afloop-rosé') ook 'clarete' maken, en dat is rosé die gemaakt wordt door rode èn witte druiven samen te persen, voor de vergisting. Die voor Spanje zo klassieke stijl, krijgt momenteel een revival. Bij ons is die stijl niet zo bekend, dus goed om te kennen.
Hieronder tref je de inhoud van mijn scriptie – engelstalige – aan. De plaatjes heb ik zelf met AI gemaakt.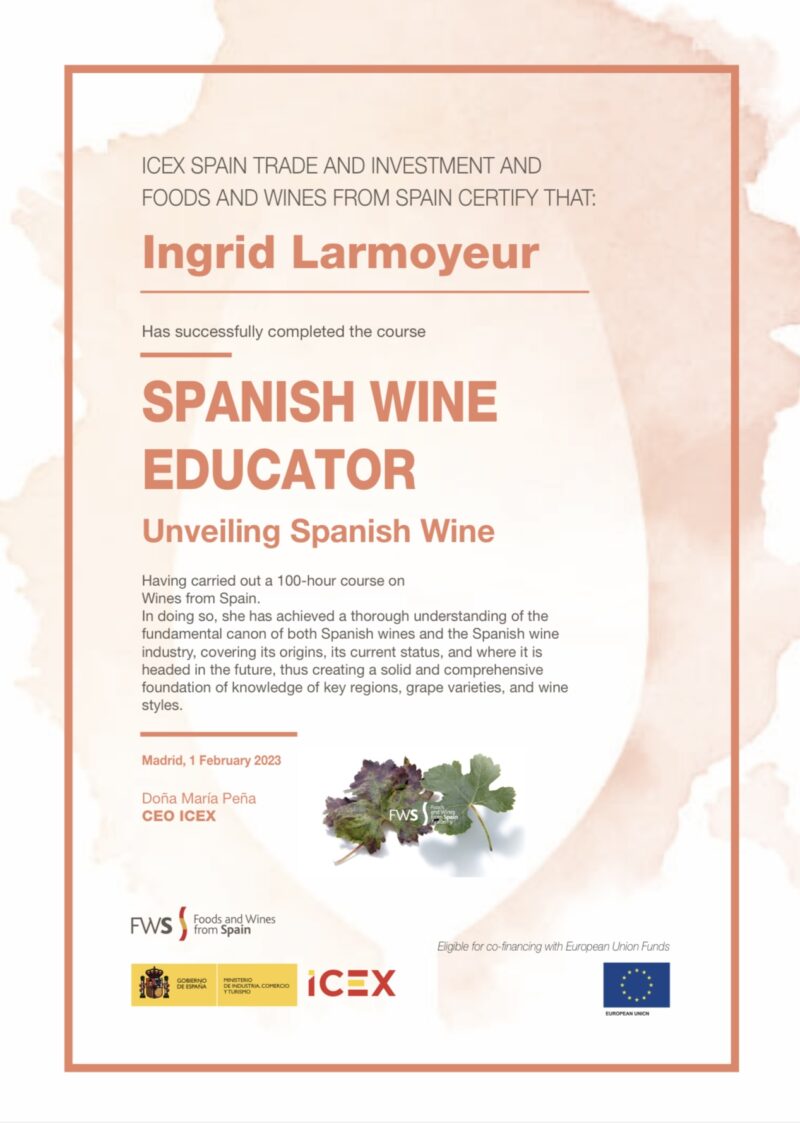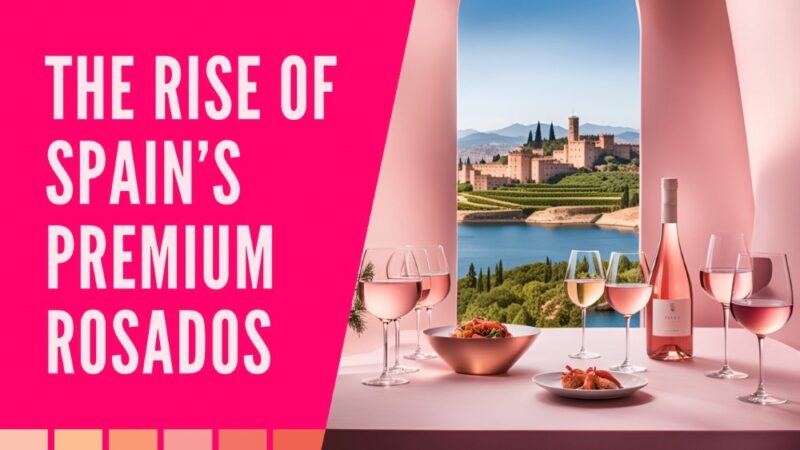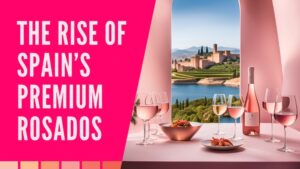 The Rise of Spain's premium rosados
July 30th 2023, Ingrid Larmoyeur
Rosé is hot. Premium rosé is a trend. France is still the leading producer of rosé. But Spain comes in second position with 5.5mhl and is the leading exporter of rosé wines. Rosé was underrated for a long time, but now there are interesting opportunities for Spanish winemakers to reach rosé lovers worldwide.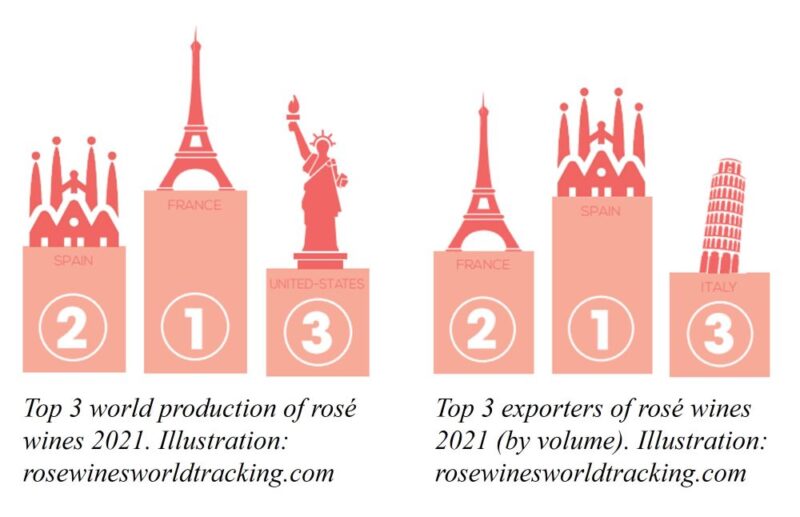 Leading rosé exporter
Over the past 10 years, worldwide rosé wine production is climbing and the consumption increased by 13%. The worldwide rosé production is 23mhl (vintage 2020). One out of ten bottles of consumed wine is rosé.
The main rosé-producers are: France (35%), Spain (20%), USA (10%) and Italy (9%).
Spain is by far the world's leading rosé exporter by volume. Interesting to notice: Spain is only third exporter by value, after France and Italy.
Top 3 consumers worldwide are France (34%), Germany (12%) and USA (11%). Other rosé lovers are in UK (6%), Italy (5%), South Africa (3.5%), Spain (2.5%), Netherlands (2%), Belgium/Luxemburg (1.9%) and Argentina (1.8%).
Current premium rosé markets are Canada, France, Holland, US and UK. And Australia, the Nordics, Germany, Belgium, Singapore and Israel show potential. High potential countries are some important markets with relatively low per capita consumption, like China, Australia, Canada, USA and UK. For Spain, these markets could be promising for premium rosés.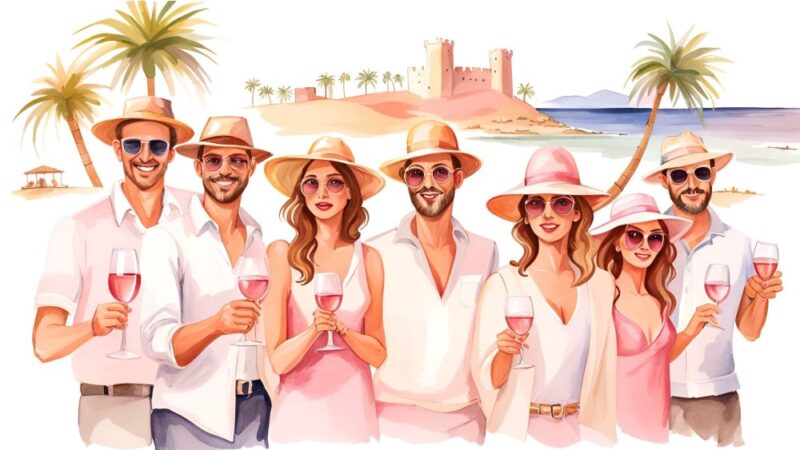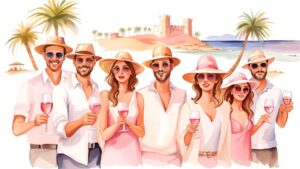 Lifestyle
Sure, you may still enjoy your glass of fruity rosé as aperitif or at the beach. But the new generation of premium rosés are not easy and low-priced summer wines anymore. These are serious wines, versatile, food-friendly, multi-layered, terroir-driven and for all seasons. Enjoyed by Millennials, Gen X, and … almost everyone.
Rosé is now all about lifestyle and fashion, glamour and pleasure. It's civilized and instagrammable. And suddenly it is appreciated by both women and men. Provence rosé is leading in this market. Wines from Château d'Esclans (Garrus), Domaines Ott (Étoile) and the famous Brangelina's Château Miraval paved the way for other quality rosés, like the Spanish Rosé de Antídodo. Rosé is here to stay and on the rise.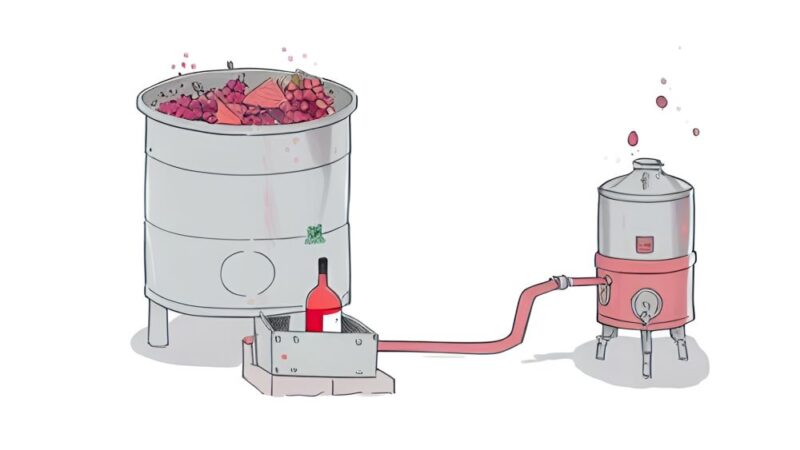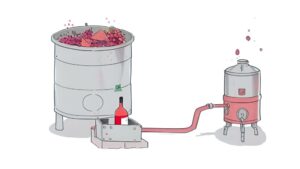 Rosados and claretes
A rosé's tint is influenced by grape varieties, the production method and/or the duration of the skin maceration. There are several production methods for rosé. And there is clarete.
Limited skin maceration means that grapes are crushed and skins and juice remain in contact for a few hours. After maceration the juice is drawn off and the fermentation begins. A longer skin maceration means more colour.
Direct pressing resembles the vinification of white wine. The grapes are pressed immediately to remove the juice from the grape skins. The pigment of the skins will still give the juice a pale pinkish hue. Direct pressing results in the palest rosés. This is the Provence style and it is worldwide popular nowadays.
The bleeding method (Fr. saignée, Sp. sangrado) was traditionally used to concentrate red wine. Rosé was merely a byproduct (e.g. in Bordeaux). Early in the production of a red wine, winemakers run off some juice while it is still pink and separately use it to produce rosé. This rosé can be richer in style and darker in colour. Navarra defined sangrado as only allowed method for their rosados.
There is Spanish rosado and … clarete, made by blending red and white grapes (grapes, not wine!) before fermentation. After blending the grapes, a short skin maceration follows. Claretes have more structure and some tannins. This classic style undergoes a revival, also for premium wines.


The nuancier – six shades of rosé
Do we have to talk about Provence rosé here? Yes. Because dark is out, pale is in. The market is asking for paler rosé, the preferred colour of Provence rosé. Vins de Provence (CIVP) developed a colour scheme for rosé, the 'nuancier', in partnership with Le Centre du Rosé. By order of consumer preference, the six main colours of rosés are: peach, melon, mango, pomelo, mandarin and redcurrant. With the nuancier we can also classify the colours of Spain's rosés, from the palest pink to vibrant coral. Spanish winemakers massively go towards the trend of pale rosés. But we see all colours, from pale rosés like Flor de Muga and Antídodo to dark like Ribera del Duero's claretes.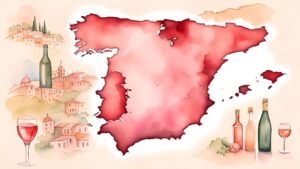 Spain's rosé regions
Spanish wine regions like Cigales and Navarra have a history in making rosé, but also winemakers in other regions show interest in rosados and claretes, like Rioja and Ribera del Duero.
Cigales specialised in rosados and claretes. These types are still by far the major part of the production here, using a mixture of red (tinta del país, garnacha, merlot and syrah), and white (albillo, verdejo and sauvignon blanc) grape varieties. Classic rosados are made from tinta del país, are full-bodied and have a deeper colour. The style is now juicier, with fresh ripe fruit and floral aromas.
Rosados made Navarra famous and are still 24% of the production. Winemakers use the sangrado method; direct pressing is not allowed. A typical Navarra rosado is from 100% garnacha, but today there are also blends with tempranillo, merlot or cabernet sauvignon; whites are not allowed.
Rioja offers a wide range of rosado and clarete styles, from pale, light and fruity, to intense coloured claretes and barrel aged rosados. Most rosados are blends of tempranillo and garnacha, but graciano, maturana tinta and mazuela are also allowed. They are made by skin contact and pressing, or by direct pressing. Claretes are from reds (>25%) and whites as e.g. viura; both combined and then pressed.
Some amazing rosados come from Ribera del Duero and some wineries here have rediscovered the clarete tradition. Other interesting rosados come from Priorat, Méntrida, Valencia, Bierzo (mencia) or Yecla (monastrell).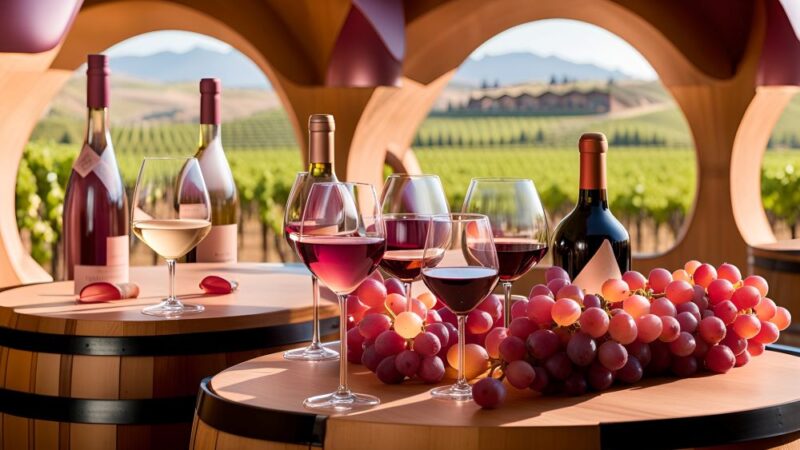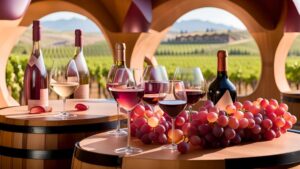 Red and whites grape varieties
A lot of Spanish rosado is made from the country's two iconic varieties garnacha and tempranillo. Tempranillo has aromatic potential and colour, is rich in extract and gives notes of dark fruit. Garnacha adds freshness, finesse, alcohol content, red fruit and smoothness.
But if we look closer, many other varieties (including some whites in claretes!) are used: mazuelo (cariñena), bobal, mencia, trepat, monastrell, garnacha tintorera, xarel.lo, vermell, espadeiro, but also international reds like cabernet sauvignon, merlot and syrah, and whites like viura, albillo (blanca del país), verdejo, sauvignon blanc and malvasia.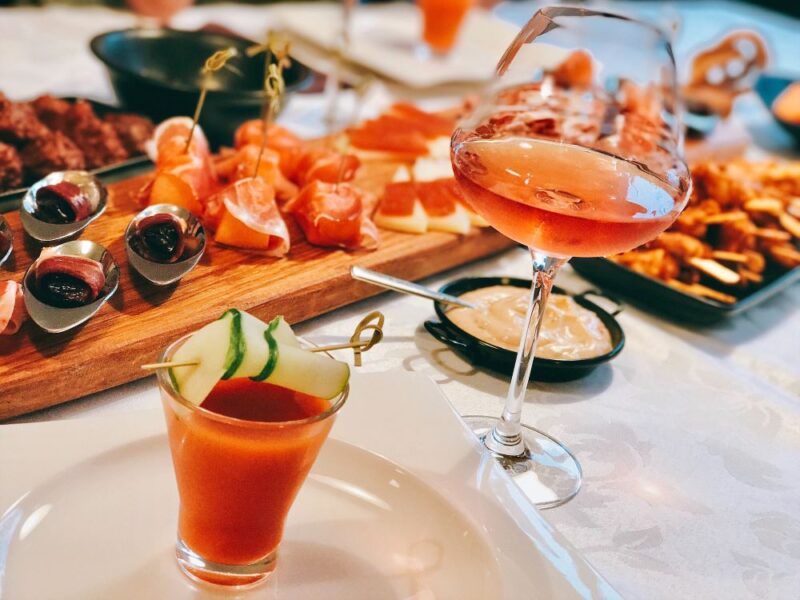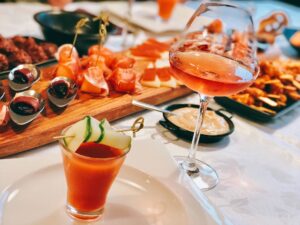 Food-friendly
Premium rosés are complex, versatile and food-friendly. So finally, let's talk about food pairing. But please, still consider grape varieties and style, production methods and ageing, intensity and structure, acidity level and tannins. Here are some pairing suggestions.
Spanish premium rosados and claretes are ideal for pairing with Spanish and international food: tapas / appetizers, seafood and crustaceans (salmon, gambas, lobster, pulpo a la Gallega), cold or hot soups (gazpacho, 'lentejas'), summer salads, summery vegetable dishes and summer tartelettes, tomato based dishes, pasta ('fideuá de marisco y pescado') and rice dishes ('arroz con bogavante', 'paella de marisco'), poultry ('pollo al chilindón'), pork ('cochinillo asado'), steak tartare, grilled satay, charcuterie and soft cheeses. Also Moroccan (tajines), Middle Eastern (mezze) and some spicy Asian dishes (curries) can pair well, especially with milder fruity rosé. For medium to full-bodied rosados, think of dishes with bold flavours like garlic, olives, anchovy, pimento and saffron. Try oaked rosados with duck, lamb or venison. The options are really endless.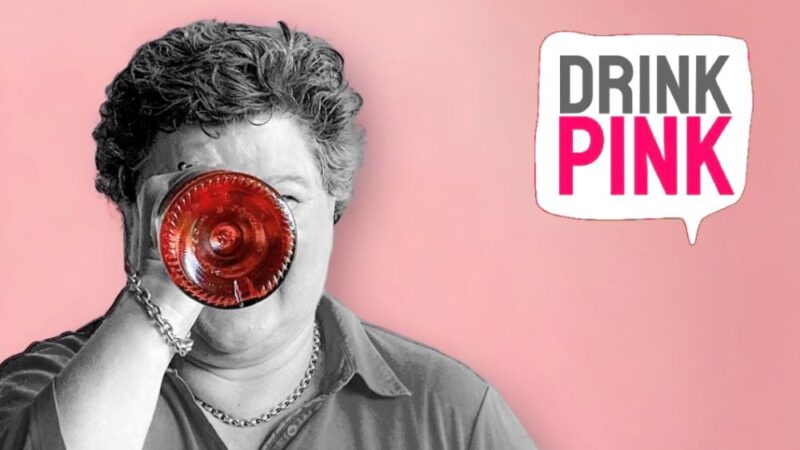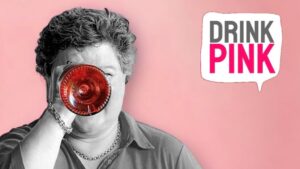 Heritage and potential
Rosé struggled a long time to be taken seriously. The rise of premium rosés pave the way to finally look at the diversity and complexity of rosé. And we now discuss the influence of grape varieties, terroir, different styles and production techniques, and we take food pairing serious. What are the chances here for Spanish top rosés?
Spain is the no. 1 rosé exporter in volume, but France is the top exporter in value. So there lies a change for Spanish premium rosés. The markets in Germany, UK and Netherlands are still steady. Potential growth exist in Belgium, Central and Eastern Europe, Scandinavia and Asia-Oceania.
Prices of premium rosés are generally high, the wines are food-friendly and sommeliers are enthousiast. Winelovers are looking for expression of terroir and varietal character in rosés. Or want to buy bone-dry, gastronomic rosés, single vineyard rosés or rosés with oak maturation. Spain has them all.
Spanish rosés have an enormous heritage. Now it's time to show the potential of premium rosados and claretes. Spain just needs to tell their stories to international rosé lovers.
So my motto is: DRINK PINK. And enjoy the wonderful diversity of Spanish rosés.
¡Salud!




Appendix
10 Spanish rosados and claretes to try
There are dozens of good to premium Spanish rosados nowadays which show their enormous diversity of grape varieties, production methods, terroir consciousness, styles and colour scheme from trendy pale pink to classic dark. Amongst the top rosados are interesting examples from a.o. Rioja, Ribera del Duero and Priorat. Here are a few of my recommendations:
Marqués de Murrieta, Primer Rosado: Rioja, 100% mazuelo, 3 hours skin maceration, 5 months on the lees, €35. [colour 4: pomelo]
Bodegas Muga, Flor de Muga Rosado: Rioja, 100% garnacha, short skin maceration, the first 50% of the free-run must is selected for fermentation at low temperature in small oak vats, 4 months on the less with stirring, €20-25. [colour 1: peach]
Ramón Bilbao, Lalomba, Finca Lalinde: Rioja, clarete from 90% garnacha and 10% viura from slopes on 520m with cooling western Cierzo wind, juice from first pressings, 5 months on its lees in concrete tanks, €20-25. [colour 1: peach]
Lopez de Heredia, Gran Reserva rosado, Vina Tondonia: Rioja, from 60% garnacha 30% tempranillo and 10% viura, unique 4 years barrel ageing in American oak, unfiltered, only in exceptional years, mostly sold out, €50-55. [colour 2: melon]
Bodegas Antídodo, Le Rosé de Antídodo: Ribera del Duero, from prephylloxeric old vines, tinto fino and albillo jointly direct pressed, and fermented and aged 6 months in 600L French oak barrels), €65-70. [colour 1: peach]
Bodegas Peñalba López, Finca Torremilanos, Ojo de Gallo: Ribera del Duero, a dark coloured clarete from prephylloxeric old vines at 950m (50% tempranillo, 10% garnacha, cariñena and bobal, 40% albillo, viura, malvasía and airén), direct pressing of red and white whole bunches, fermented and aged 6 months in new 600L barrels, biodynamic, €25. [colour 6: redcurrant]
Dominio del Águila, Pícaro del Águila 'Clarete' Viñas Viejas: Ribera del Duero, clarete from mainly tinto fino and blanca del país (albillo) with garnacha and bobal, non destemed grapes, trodden with the feet, direct pressing, 20 months in oak barrel, not clarified, not fined, €30 – 35. [colour 6: redcurrant]
Bodegas Legaris, Vino de Pueblo rosado, Olmedillo De Roa: Ribera del Duero, cool climate vineyards on 973m altitude, clarete from 60% tinto fino and 40% albillo, pressing after a joint maceration for 24 hours, €25. [colour 6: redcurrant]
Cellers Scala Dei, Pla dels Àngels: Priorat, from old vine garnacha, 3 hours skin maceration, rosado de sangrado, €30-35. [colour 5: mandarin]
Marqués de Riscal, Viñas Viejas rosado: VT de Castilla y León, from over 80 years old pie franco (ungrafted) and pre-phylloxera tinta de toro vines, rosado de sangrado, ageing on the lees of sauvignon blanc provides freshness, €35-40. [colour 5: mandarin]